Potpourri Bomb is an item in the fifth catalog, Miss Nancy's Guide to Stylish Living.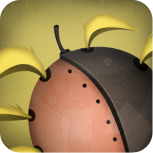 The item is a weird looking bomb with feathers sticking out on the side. When burned, the Potpourri Bomb burst open, releasing colorful smoke, flowers, and seeds. It cost 45 coins and takes a minute and 15 seconds to deliver.
Description
Edit
Useful in any olfactory emergency.