Mighty Mustache is an item in the sixth catalog, Shop & Awe and is the first item in the catalog.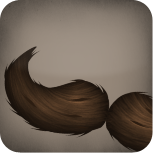 This item is a large mustache like item. When burned, bits of hair floats into the air and after a few seconds of burning, it disappears, with some bits of hair shown before they vanish. It cost 35 coins and takes 30 seconds to deliver.
Description
Edit
Ain't nothin' manlier than a fine lookin' 'stache.
Mighty Mustache+Fashionable Sunglasses=Glasses & Staches COMBO