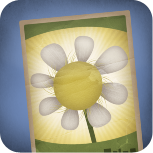 The
Instant Seed Packet
is an item that can be purchased in the catalog
Chimney Stuffer
 that costs 10 coins.
When burned, the Instant Seed Packet bursts with a number of seeds, between 7-9. When the seeds catch fire, they instantly become flowers, which burn at an extremely fast rate. The flowers don't leave burned pieces behind.
Appearance
Edit
The Instant Seed Packet first appears as a simple small packet with a standard looking flower on its front. The flower has white petals and a yellow center. The seeds that appear as it's burned bear a strong resemblance to sunflower seeds. The flowers that burst when the seeds are lit are identical to the flower on the packet.
Combos (Spoilers)
Edit
The Instant Seed Packet appears in the following combos:
Description
Edit
"The joy of gardening without the inconvenience of sunshine or effort."
The combo Zombie Garden is a reference to the game Plants vs. Zombies.
The combo Sun Flower is a reference to the actual flower, so named for its resemblance to the sun and its tendancy to grow wherever sunlight is strong. This could also be a reference to the seeds themselves mirroring the appearance of sunflower seeds.
Community content is available under
CC-BY-SA
unless otherwise noted.