Howling Coyote is an item in the fifth catalog, Miss Nancy's Guide to Stylish Living and is the first item in the catalog .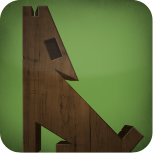 The item is a wooden cutout of a coyote. When burned, the item will make a low howl. It cost 23 coins and takes 25 seconds to deliver.
Description
Edit
Ask not for whom the coyote howls, he howls for yoooouuuu.
Howling Coyote+Mini Moon =Howl at the Moon COMBO