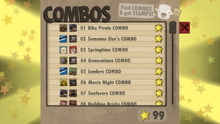 Combos are achieved by combining two or more specific items. The game lists 99 combos. When a combo is completed, you earn 2 to 4 Tomorrow Stamps. When all combos are achieved, you will get a letter from Miss Nancy, saying that you have achieved "Platinum Rainbow Elite Status" in the "Tomorrow Corporation Combo Loyalty Program," with a Novelty Mouse Pad as a gift, which drops a lot of Stamps when ignited.
The combo's name often refers to the items needed. It will either:
The combos are also ordered by item. For instance, the Springtime combo comes before the Generations combo, because you gain access to the Alarm Clock and Instant Seed Packet before Someone Else's Family Portrait and the Spider Egg.
The paragraph below contains major end-game spoilers.
There is a 100th combo which triggers a hidden ending. This is triggered by buying all the items in every catalog. Sugar Plumps then hints to the items that make up the combo: the Jar of Fireflies, Broken Magnet, Toy Exterminator, and Fashionable Sunglasses. It does not appear in the combo list, and it can only be triggered once.
Combo List
[
]
#
Name
Items Needed
Name Origin
01
Bike Pirate Combo

Wooden Bicycle
Toy Pirate + Wooden Bike (Bike is short for bicycle.)

Toy Pirate
02
Someone Else's Combo

Someone Else's Credit Card
Both have the words "Someone Else's" in them.

Someone Else's Family Portrait
03
Springtime Combo

Instant Seed Packet
Seeds sprout in the spring + Alarm clocks tell time

Alarm Clock
04
Generations Combo

Spider Egg
They both reference generations.

Someone Else's Family Portrait
05
Lenders Combo

Someone Else's Credit Card
They both contain money.

Blankity Bank
06
Movie Night Combo

Corn On The Cob
People eat popcorn and watch television during movie nights.

Television
07
Seafarers Combo

Toy Pirate
A pirate captain on a ship.

Oil Barge
08
Building Bricks Combo

Building Blocks
Building Blocks + Ordinary Bricks

Ordinary Bricks
09
Fire Breather Combo

Antiki Torch
Both breath fire.

Pyranosauraus Plushie
10
Dino-Mite Combo

Pyranosauraus Plushie
Dynamite + dinosaur

Disgruntled Elf Plushie
11
Watching You Combo

Television
Both have screens.

Wandering Eye
12
Magnetic Heart Combo

Broken Magnet
Broken Magnet + Cold Metal Heart

Cold Metal Heart
13
Double Fan Combo

Space Heater
They both are fans.

Cold Metal Heart
14
Terrible Teeth Combo

Eager Bunny Plushie
They both have terrible teeth.

Toy Leperchaun
15
Time Bomb Combo

Alarm Clock
Alarm Clock + Mini Nuke

Mini Nuke
16
LOL Kitty Combo

Wandering Eye
What do you usually use to film a funny cat video? A phone camera.

Kitty Kitty Poo Poo Plushie
17
Catfish Combo

Kitty Kitty Poo Poo Plushie
Cat + Fish

Blowfish
18
Bear in a Chinashop Combo

Feelings Bear Plushie
This references the idiom "a bull in a china shop".

Fragile China
19
Dinnerware Combo

Wooden Spoon
Both are dinnerware.

Fragile China
20
Cornflakes Combo

Corn On The Cob
Corn + Flakes

Tooth 'n' Corn Breakfast Flakes
21
Deadly Fish Combo

Blowfish
Blowfish are deadly. Sushi, as a Japanese delicacy, has pufferfish in it. Pufferfish are deadly.

Discount Sushi
22
Wake Up! Combo

Alarm Clock
They both wake people up.

Coffee
23
Iced Coffee Combo

Dry Ice
Ice + Coffee

Coffee
24
Easter Bunny Combo

Egg Pack
The easter bunny lays colorful eggs.

Eager Bunny Plushie
25
Liquid Diet Combo

Future Fizz
All the items are liquid.

Coffee

Midlife Crisis Mitigator




26
Egg Sac Combo

Spider Egg
Both are eggs.

Locust Eggs
27
Freaked Out Food Combo

Marshmallows
All of these items scream when burned.

Coffee

Toaster
28
Wooden Block Combo

Letter Blocks
They're all wooden blocks.

Building Blocks

Tetronimos
29
Arachnid Combo

Spider Egg
Both are related to arachnids/spiders.

Giant Spider
30
Zombie Garden

Combo

Instant Seed Packet
Reference to the game "Plants vs Zombies"

Toy Zombie
31
Eggcellent Combo

Egg Pack
Both are egg-related.

Phoenix Egg
32
Puzzling Adventure Combo

Tetronimos
A reference to the Professor Layton series on the Nintendo DS.

Gentleman Adventurer Doll
33
World of Goo Combo

Goo Ball Pack
A clear reference to the game "World of Goo".

Casual Game
34
Airplane Mode Combo

Cell Phone
All are electronics. Electronics should be off or set on Airplane Mode when on an airplane.

Handheld Fireplace

Gaming Tablet
35
Underwater Combo

Blowfish
They both float and act as if under water.

Miss Hexopus
36
Meta Combo

Handheld Fireplace
Both are related to Little Inferno itself and therefore are "meta."

Beta Version
37
Pixel Pixelated Combo

Pixel Pack
These items make the fire pixelated.

Beta Version
38
Japanese Combo

Discount Sushi
Both originate from Japan.

Toy Ninja
39
Brains Ahoy HIYA! Combo

Toy Zombie
A combination of what these characters say.

Toy Pirate

Toy Ninja
40
Rosy Combo

Valkyrie Doll
These all emit roses.

Gravity Boy Action Toy
41
Howl at the Moon Combo

Howling Coyote
A wolf howls at the moon.

Mini Moon
42
Cat Lady Combo

Kitty Kitty Poo Poo Plushie
Cat + Lady

Old Lady Doll
43
Elderly Couple Combo

Old Lady Doll
Two old people.

Gentleman Adventurer Doll
44
Terrible Mystery Combo

The Terrible Secret
Terrible + Mystery

Mystery Seasoning
45
Change the Bulb Combo

Fragile Bulbs
Change the old bulb with a new one.

Modern Lamp
46
Cold War Combo

Uncle Sam's Blam Blams
A reference to both countries (USA and Russia) that angrily glared at one another during this war.

Russian Nesting Dolls
47
Framed Combo

Little Inferno Collector Poster
They all have frames.

Someone Else's Family Portrait

Oil Painting
48
Writer's Block Combo

Letter Blocks
They both have letters.

Word Pack
49
Stop Drop & Roll Combo

Smoke Detector
They both can help prevent fires.

Fire Extinguisher
50
Colorful Flame Combo

Zesty Beetles
All of these make the fire colorful.

Beta Version

Powder Barrel
51
Pollinating Combo

Instant Seed Packet
Butterflies pollinate flowers.

Cocoon
52
Cat Bath Combo

Kitty Kitty Poo Poo Plushie
Cat + Bath

Dish Detergent
53
Clean Plate Combo

Fragile China
Cleaning the dishes with detergent.

Dish Detergent
54
Orchestral Combo

Valkyrie Doll
Both emit music.

Cello
55
Moonlight Melody Combo

Mini Moon
Moon + Melody (Cello)

Cello
56
Medicated Midlife Combo

Midlife Crisis Mitigator
Both use the same image on the object.

Medicated Mommy Pills
57
Pill Popper Combo

Best Friend Supplement Pills
Both are pills.

Medicated Mommy Pills
58
Bearskin Rug Combo

Feelings Bear Plushie
All Bear traps catch bears!

Old Bear Trap
59
Fireworks Combo

Uncle Sam's Blam Blams
These are fireworks, if you didn't get this combo, you are a terrorist. (referring to Uncle Sam's Blam Blams description)

Dynamite Daisy
60
Spinning Blades Combo

Super Juicer 4000
Both have spinning blades.

Drill Chain Thrower
61
TIMBER! Combo

Drill Chain Thrower
All of these are Lumberjack based .(The Manly Odor Spray has tartan, like lumberjack uniforms)

Lumberjack Hand

Manly Odor Spray
62
Poker Hand Combo

Glass Cards
A hand of cards.

Lumberjack Hand
63
Duck Season Combo

Gaming Tablet
Both of these contains ducks (reference to Duck Hunt )

Game Bush
64
Huntin' Combo

Old Bear Trap
Both are hunting related.

Game Bush
65
Nuclear Shave Combo

Mini Nuke

Manly Razor
66
Manly Combo

Manly Razor
They all share one word: Manly.

Manly Trophy

Manly Odor Spray
67
Brick 'n Mortar Combo

Ordinary Brick
A play on words with bricks and mortar. (Both used to hold bricks together and a weapon)

Unstable Ordinance
68
Texting Gurl Combo

Cell Phone
A drunk girl that texts.

Low Self-Esteem Action Doll
69
Sorority Party Combo

Low Self-Esteem Action Doll
A drunk party.

Balloons
70
Chain Puffer Combo

Drill Chain Thrower
A reference to chain smokers.

Puff Pack
71
Deadly Vices Combo

Midlife Crisis Mitigator
This combo represents drinking, smoking and gambling.

Glass Cards

Puff Pack
72
Legal Charges Combo

Legal Briefcase

Someone Else's Credit Card
73
Injection Combo

Snake Surprise
These have needles.

Protein Powder
74
Bodybuilder Combo

Manly Trophy
They both show off muscles.

Protein Powder
75
Deafening Combo

Valkyrie Doll
Both emit a soundwave effect.

Sonic Boombox
76
Road Rage Combo

Wooden Bicycle
These are all vehicles.

Celebration Bus

Mustache Rider
77
Diseased Combo

Toy Leperchaun
These cause things to rot.

Mystery Seasoning

Book of Darkness
78
Chain Email Combo

Drill Chain Thrower
(Drill) Chain Thrower + Email

Email
79
Wooden Applause Combo

Lumberjack Hand
Hands that are wood.

Laser Pointer
80
World Adventurer Combo

Flaming Globe
He's an explorer.

Gentleman Adventurer Doll
81
Learning is Fun! Combo

Celebration Bus
Both feature children.

Rocketship of Learning
82
Glasses & Staches Combo

Fashionable Sunglasses
How to look stylish.

Mighty Mustache
83
Before the Internet Combo

Television
This is a CRT TV and a radio.

Old Timey Radio
84
Sleeping Idol Combo

Sleeping Idol
These are idols.

Triangle Idol

Rotund Idol
85
Ice Planet Combo

Dry Ice
Both cause freezing.

Mini Pluto
86
Heart and Soul Combo

Cold Metal Heart
It's a cold metal heart and the figure's soul.

Transhumanist Action Figure
87
Yellow Brick Road Combo

Kitty Kitty Poo Poo Plushie
This is a reference to the Wizard of Oz's scarecrow, tin man, and lion.

Scarecrow

Transhumanist Action Figure
88
Planes & Trains Combo

Unstable Ordinance
Planes drop bombs, and a train can be heard when you burn the railroad sign.

Railroad Xing
89
Robotic Future Combo

Clampy Bot
Both are robots with glowing eyes.

Mom & Dad Bots
90
Polar Bear Combo

Feelings Bear Plushie
(South) Pole + (Feelings) Bear (Plushie)

South Pole
91
Cardboard Combo

Imitation Meatboy

Cardboard Sword

Decoy Lady Bug
92
Sausage Factory Combo

Sausage Links
Sausage (Links) + (Clone) Factory

Clone Factory
93
Book Club Combo

The Terrible Secret
All of them are books.

Book of Darkness

Creation Science
94
Spam Cloud Combo

Email
Widespread spam emails.

Internet Cloud
95
Online Piracy Combo

Internet Cloud
Pirating games and music.

Toy Pirate
96
It's a Sign! Combo

Railroad Xing
Signs.

This Way Down
97
Sun Flower Combo

Instant Seed Packet
Sun + flower.

Miniature Sun
98
Mini Milkyway Combo

Mini Moon
These are bodies in the solar system.

Mini Pluto

Miniature Sun
99
Future's So Bright Combo

Miniature Sun
The sun is bright like the future, and you need sunglasses to see the bright future.

Fashionable Sunglasses
100
End Combo

Jar of Fireflies
This combo will trigger the second part of the game and can only be done once.

Broken Magnet

Toy Exterminator

Fashionable Sunglasses